At the Amsterdam health & technology center (AHTC), we are creating a global and diverse healthtech community. Our community consists of private and public companies, entrepreneurs, researchers, incubators, government institutions and other entrepreneurship support organizations. 
We provide a collaborative environment for builders who want to join forces and speed up innovations and transformations in health.
The AHTC consists of four towers, connected by three atriums. It offers work space to 2,000 people, meeting rooms and a coffee and lunch lounge. It is easy to reach by public transport and offers a safe parking place for your bike or car. The AHTC is also an excellent location for conferences, workshops and social events.
Meet some of our neighbors at the center:
AmsterdamConnected facilitates workplaces, meeting  rooms and event rooms and connects people and businesses in places that manifest themselves as mini metropolis.
Castor EDC wants to accelerate medical research. 'Castor Electronic Data Capture' enables researchers to capture high-quality, standardized data at the source and make it available for re-use.
everywhereIM makes care for physicians and patients more efficient through smart use of IT. They strive for efficient care at lower costs.

Joep Lange Institute is inspired by the life and work of Joep Lange. JLI combines science, activism and pragmatism to reach his goal: making health markets work for the poor where the system fails the people.
NLC The HealthTech Incubator provides the entrepreneurial partnership that health researchers and innovators are looking for. They drive ideas from prototype to a viable product. NLC partners with others in building inventions to a success.
Pharmeon creates a modern eHealth platform by linking online services with the information system of caregivers to have safe, professional and efficient communication with patients.
uniQure built the world's leading gene therapy platform. uniQure has an ongoing clinical program in hemophilia B and preclinical proof-of-concept for a gene therapy in Huntington's disease.
Connection to the city center? Grab an electric bike!
Provided by Urbee and the AHTC.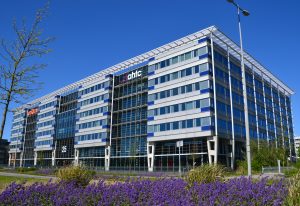 Entrepreneurs face common challenges as they seek to transform their ideas into successful companies.
Joining the Amsterdam health & technology center means joining a global community of like-minded people and enterprises.
The AHTC offers various possibilities.
Work
Amsterdam Venture Studios AHTC is run by ahti, in collaboration with the AHTC. It is the place to be for startups and scale ups in health. Our Venture Studios offer work space from one unit up to 350 m2. It is part of the academic incubators of Amsterdam and will give you access to ahti's services and network.
Full grown companies looking for a professional environment of more than 350m2? Get in touch with DutchRE - frontoffice@dutchre-europe.com
Nice to know – The AHTC was the first building in the Netherlands to receive the LEED Gold certificate in 2010 (Leadership Energy & Environmental Design).
Grow
Training and connecting to the right mentors, partners and investors are critical to your success. Starting healthtech entrepreneurs are invited to join HealthInc, our incubator program. HealhInc is run together with AMC and powered by Startup Bootcamp. It is based in our Venture Studios.
Inspire
We encourage individuals to engage in our community by attending or organizing events, exchanging ideas and sharing the latest industry insights.
Join our events
We organize and host expert meetings, social meetups and conferences throughout the year.
Host an event
Join our community by hosting an event at the AHTC. We will be happy to welcome you. Send us an email to find out more about the possibilities.
Marleen Hendriks, Director of Reserach and Innovation, Joep Lange Institute:
"At the Joep Lange Institute, we enable innovations and advocate solutions to make health markets work for the poor in countries where the government fails to deliver. Digital technology is key to drive change and at the heart of our work."
David Spanjaart, Manager Engineering & Facilities - Operations uniQure:
"uniQure has chosen for the Amsterdam health & technology center to work as effective and efficiently possible on innovative gene therapies for patients with severe, unmet, medical needs."
Aletta Jansen, Project Manager, AIGHD:
"AIGHD's mission, broadly speaking, is to improve health. Being situated at the AHTC allows for closer collaboration and sharing ideas together with our partners, other health-focused startups and organizations working for this common goal. It is exciting to think what great initiatives and positive change could develop as a result."
Nina Rijnders, Business Developer, NLC: 
"For us, the AHTC is an ideal environment to connect with other startups in medical technology. But also to share ideas, knowledge and experiences with each other and to develop activities together wherever possible."
Marco Verwoert, Founder AmsterdamConnected
"AmsterdamConnected connects people and businesses in places that manifest themselves as mini metropolis. The AHTC is the place where this connection, with the focus on health and technology, can actually take place. That is why the AHTC is the perfect home base for AmsterdamConnected."
Lieke Helsper, Customer Success Manager, Castor EDC:
"As healthcare startup we like to be surrounded by other innovative and dynamic companies. That is why we moved to the Amsterdam health & technology center a couple of months ago. In addition to the fact that such an environment works inspirational, it is also very useful to exchange ideas with each other. For example, new applications that you use or certain processes you follow.""